Making Our Communities a Better Place For All of Us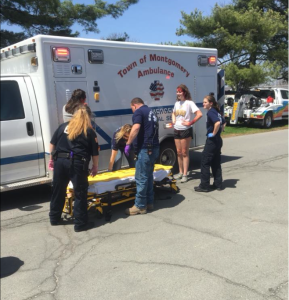 As an IRS 501(c)(3) non-profit organization, Walden Ambulance Corp has been serving communities of Montgomery and surrounding areas since 1962. In 1993 they started doing business as The Town of Montgomery Ambulance. Town of Montgomery Ambulance has staff members as well as volunteers and we receive no government funding. We rely on generous donations from our community to continue providing exceptional emergency medical services, training for our personnel, and exploring the latest life-saving technology.
51 square miles
Our service area stretches across 51 square miles, serving the communities of Montgomery, Walden, Maybrook, Coldenham, and portions of Hamptonburg.
Elected Officers of the Town of Montgomery Ambulance
John Nolan
Vice President
Patricia Williams
Secretary
Pattie Williams
Assistant Captain
Krystal Shorette
Lieutenant
Felix Ruben Enchautegiu
Trustee 1
Sylvie Rainaldi
Trustee 2
We strive everyday to provide exceptional emergency medical service to the community, training to our personnel, and to be on the forefront of the latest technology. Each position has formal training, and is mentored by qualified and experienced members. We are a Basic Life Support Agency. Our Emergency Medical Technicians provide care with assistance from CPR and first aid trained member volunteers. Our drivers are certified in Emergency Vehicle Operations; responding to over 2,000 calls per year.